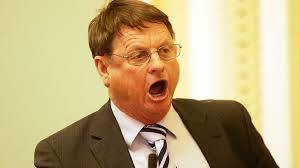 We've obtained a copy of the Statutory Declaration Robert Schwarten referred to regarding the painting of his home. As you can see, it's very ambiguous. If Mr Schwarten was serious about clearing his name he would have ensured the State Dec identified who paid Paul Forrest.
The stat dec makes no reference to Mr Schwarten paying any money. It's deception by omission, the same strategy Brittany Lauga uses.
There's no evidence Mr Schwarten has paid for anything!
Background
Under parliamentary privilege, Michael Hart MP on October 30 described Mr Schwarten — now on the a board member of the agency that monitors phoenixing in the building sector, the Queensland Building and Construction Commission — as "best mates" with JM Kelly group director John Murphy.
Mr Hart also raised "rumours" that JM Kelly "built faults into government projects in order to ensure future work referrals", and openly questioned whether Labor MPs he said were close to Mr Schwarten — including Ms Jones and Assistant Education Minister Brittany Lauga — were involved.
On November 1, Mr Hart raised allegations that Mr Schwarten "had major renovations done to his Rockhampton houses by JM Kelly in 2009 and 2011" and "the cost of that contracting work — about $26,000 — was not paid by Schwarten but was added as a variation to a government contract"
Mr Schwarten, a stalwart of the Beattie and Bligh governments, has strenuously denied wrongdoing saying "The statements he has made is incorrect."