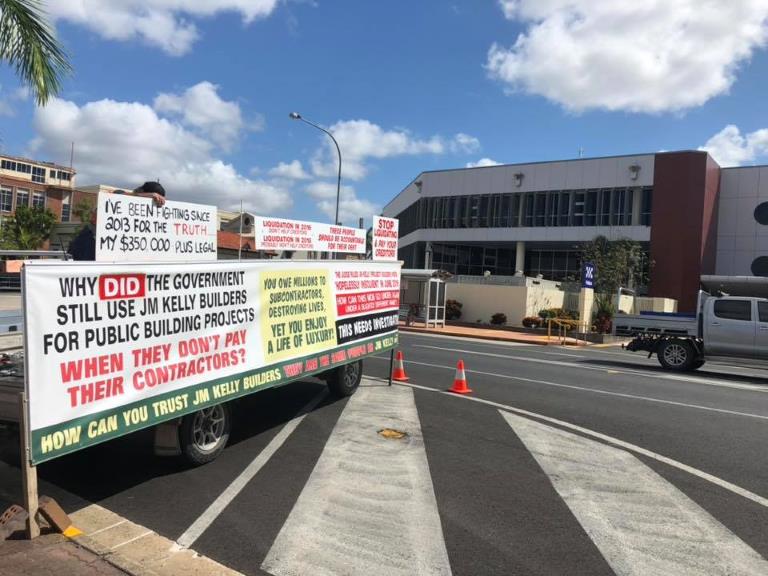 "A room filled with tension, uncertainty and little trust." Those were the words that described today's 2nd creditors JM Kelly meeting by one of our informants.
It is believed the room was occupied by approximately 50 people, mostly creditors. Derick Vickers from PWC opened the meeting at approximately 10:20am and resumed the position of Chair. The meeting was shortly interjected by a member of the audience who identified himself as Craig Barlow. Mr Barlow handed up some rules to the Chair and 23 proxies of businesses who couldn't attend. Mr Barlow also seeked a motion for the meeting to be recorded by way of audio. After some "argy bargy", a vote was called with 22 Yes and 15 No. The motion had passed and the meeting was to be recorded.
It was clear that the Liquidator had identified a majority of the JMK businesses were no longer able to operate as they were not financially viable. These included JM Kelly, Metal Accessories and CQ Plumbing as "not viable". Some liquidated assets were identified such as a vacant parcel of land located at 65 John St in Yeppoon and a "non airworthy" Cessna 310r aeroplane.
Pink Lily Sands remains as a viable business and will continue to trade.
Throughout the liquidation process, Mr Murphy from JMK has argued it was the QCAT proceedings that caused the insolvency. PWC indicated today this was "very unlikely" and that "The treasury function is opaque. Lots of moving around on loan accounts…quite a bit of money moved out of the company that should have been retained in the company."
There are a total of $5.97 Million in inter company loans consisting of 43,000 transaction in a 12 month period and estimated more than 100,000 inter company transactions in total. JMK also had a accounting behavior that raised concerns. When reporting to the QBCC, money (approx $2.4M) would be moved to a bank account to satisfy the QBCC and the very next day it would be moved out. The QBCC only required to sight the funds on the day of their query. JMK also reported things such as funds in term deposits as security when quite clearly it should never have been accepted. Some information was also absent from the reporting to the QBCC. These were the observations by PWC after a forensic audit of the accounts. The Chair also indicated to the meeting that "reservations about information provided to QBCC may not have been accurate." and then went on to provide extensive reasons as to why.
The QBCC is considering funding a public examination at an estimated cost of $250,000.00, a move welcomed by PWC.
There are a total of 78 statutory declarations claiming either creditors and superannuation has been paid. The evidence before PWC indicates that is not true. "The reality is it [superannuation] remains outstanding for most employees for over 12 months."
The Chair also indicated a current police investigation is underway and the Australian Taxation Office is involved. PWC are offering their assistance with this investigation.
What is concerning however, and probably the most concerning thing we believe the public need to know, was the remarks by the Chair at approximately 10:54am when he indicated to the room that the Police were taking this investigation seriously. So seriously "it has gone to a Ministerial level". A reasonable person could come to the determination that whilst this action may sound like a good thing, it is quite the opposite. There should be no political interference in a police investigation. The Queensland Police Service is dirty enough!
Furthermore, the fact that the QBCC (building watchdog) Board is chaired by the former President of Queensland Labor and has as one of its executives as Robert Schwarten, the former Public Works Minister with a long history in department public works, is also very very concerning. Accusations have already been made on the floor of Parliament that members of Queensland Labor have dirty hands.
The smell of political interference is rife and Queensland citizens need to be concerned with this!