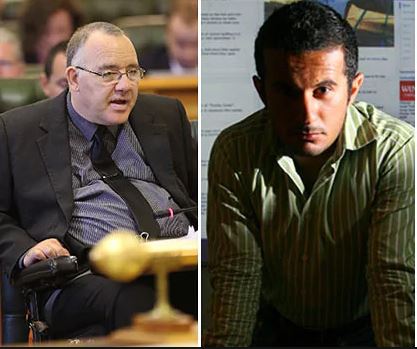 In an unexpected turn of events, the Queensland Parliament's Legal Affairs and Community Safety Committee has accepted Khalesirad's submission in response to the Human Rights Bill 2018.
In summary, his submission raises the following concerns;
Khalesirad DOES NOT support the proposed Bill.
The State has immunity against prosecution but it is not clear if that immunity extends to entities that deliver service of a public nature.
Queensland Police Service officers lack skills in identifying persons of interest with special needs.
The Queensland Parliament's override clause is dangerous. Members of the Legislative Assembly must also be bound my the Bill.
The submission also expresses Khalesirad's concerns about his visit to Parliament in September 2017. This appears to be the first time Khalesirad has been heard on this scandal. In his submission he writes " In some cases the people we elect are more interested in protecting the institution, even if it is at the expense to innocent people such as myself, MP's on the opposing side, or even those MP's who exercise a conscience vote."
It is worth reading Rob Pyne's version of the events too which are referenced in his footnotes at 15 or click here to read it now. (See Stalker in Parliament)
Stalker in Parliament
An extract from Rob Pyne's website
In politics, nothing happens by accident. If it happens, you can bet it was planned that way. – Franklin D. Roosevelt
"The ALP do not want to discuss Ms Lauga's issues with Hutchinsons builders or her failure to provide proper disclosure pursuant to section 15(4) Integrity Services Act (correspondence from the Qld Integrity Commissioner attached). Lauga claims her affairs regarding the overrun of her matrimonial home were all cleared and disclosed to the Parliament.
This was nothing more than a political stunt by the ALP. They focus on petty political game playing, in a bid to remove the spotlight from their face. Ask yourself, "If you were in fear of your life from a stalker and discovered that he was in the building would you ring the police or security OR write a letter to the speaker and contact the media."
Autism in Policing
A dodgy lawyer and a few bent cops. It's a perfect recipe for a miscarriage of justice and that's what it appears Khalesirad was advocating for in his submission on behalf of a Central Queensland man.
Khalesirad writes "I am familiar of a case in Central Queensland where the QPS failed to identify a person of interest with Autism as a special need. From that point on, the machine swallowed him and I am of the opinion, the man was prosecuted for something he didn't do, serving two months in prison for an offence he didn't commit. His lawyer, who has been the subject of several misconduct investigations by the Legal Services Commission provided anything but legal representation.
In his open letter titled Autism and Police interviewing (attached) the author writes "When under the spotlight of a Police interrogation from an already highly fixated and suspicious individual, all this unnecessary verbiage unfortunately becomes fodder for further suspicion and assumption that I (sic) must be "guilty" and therefore need to be "taken down", even if it means constructing a scenario that doesn't exist.
Read the full OPEN LETTER – AUTISM AND POLICE INTERVIEWING from pages 6 onward.